---PRODUCT QUALITY---
1. Is your hair 100% human hair?
We're selling 100% human hair, and top virgin hair.
2. Why virgin human hair is better that remy hair?
Remy hair: Usually refers to the medium quality hair which comes from different donators.
Virgin hair: Refers to the hair from a single donator which guarantees the same texture and feeling of a wig.
Virgin is featured as following:
★100% natural human hair
★cut from the donor in one ponytail
★no chemical processed, never been permed or colored
★can be shampooed, dyed, styled and conditioned
3. How long is the longevity?
It depends on how you maintain it. Treat it like your own hair and take very good care of it. Normally it can last longer than 1 year.
4. Can the hair be dyed, permed?
Yes, it can. As a general rule it is easier to darken the hair than to lighten the hair, we recommend to dye darker since it is difficult for the original colour to fade. Bear in minid that improper dying will ruin the hair. It is recommend to have the hairdresser dye the brazilian virgin hair. If you prefer to dye at home, please use a good quality wig and test a small strand of hair first.
To prolong the wig's life, do not dye, perm or straightened the hair too often.
4.Can I Bleach Natural Hair To #613 hair and dye?
We suggest you buy #613 hair to dye your fav color or buy the color hair. We can't guarantee that you DIY the color you want. Cuz our factory has top quality hair and 10+ years experience technicians and special dyes to guarantee the desired color.

5. How to identify the human hair?
It is easily to see this for yourself when you receive your product. Simply remove a few strands of hair and burn them.  Human hair has natural proteins, so it is reduced to ash and produces a foul smell when it is burned. However, synthetic hair melts into a sticky ball when burned, so it is very easy to tell the difference. Moreover, human hair may have a few gray hairs or split ends. This is not a quality problem. It is very natural.
 ---SIZING---
6. How to measure it?
Firstly, it's wrong to measure it directly, you need to stretch it to be straight and then measure it, then you can get the right length. Actually, if measure the length after straightening, our product will be longer.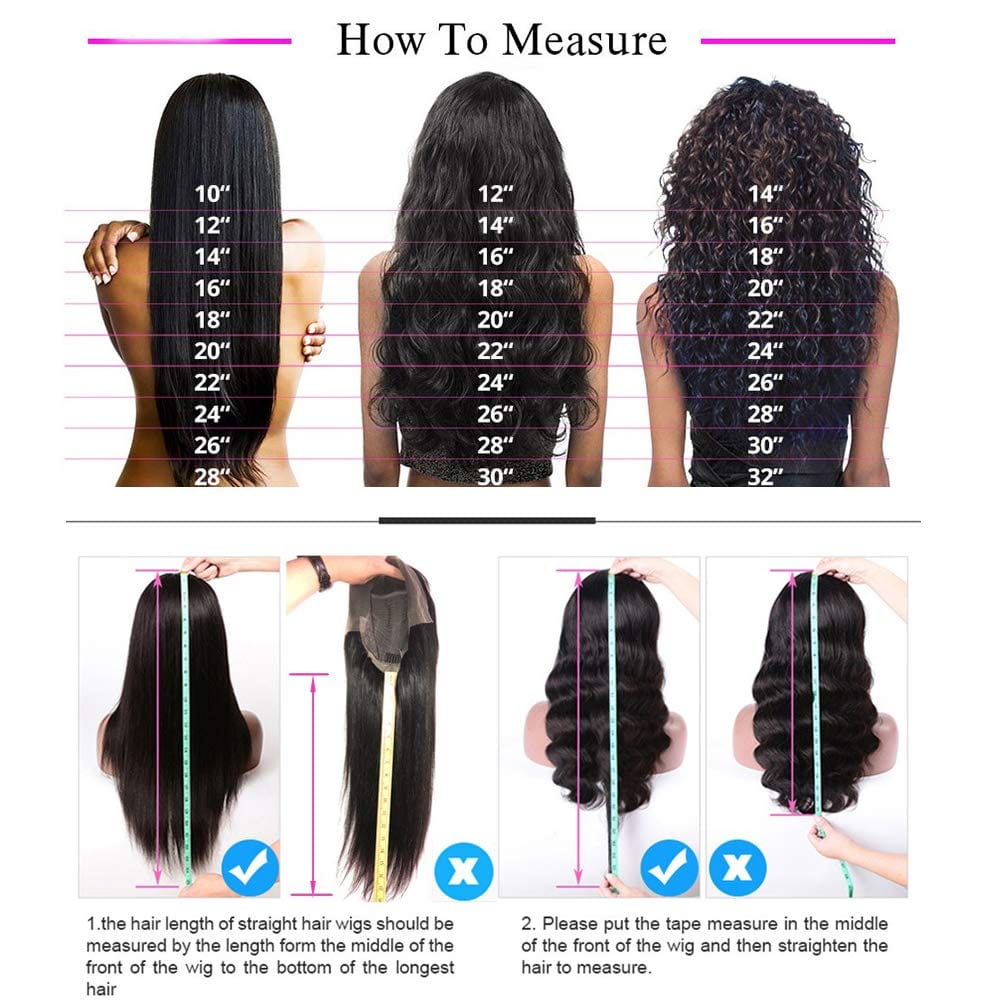 7. Cap Size?
Our Stock size of the circumference is 22.5 inches, and we have the combs and elastic band or adjustable straps inside. 
---STORE SERVICE---
8. Can I try on the wig or wig band in store?
Yes. Don't hesitate to go to our store to try on.
9. Can you help me install the wig?
Hi honey, we don't have a wig install service for the time being. You can ask the hairstylist.
---HAIR CARE---
10. Why does the hair get tangled?
There are few reasons why the hair gets tangled, such as hair oil, dryness , dirt, sweat, chlorine and not combing properly. To avoid tanglement and keep it smooth, make sure to wash & condition your hair at least once a week, twice a week is better.
11. How to protect your natural hair while wearing wig in your daily life?
A. Avoid nylon and cotton caps which will absorb moisture and could damage or dry your natural hair.
B. The caps should be comfortable and not too tight. If you use hair clips, install them carefully so they don't snag hair during removal.
C. A good quality moisturizer will protest the hair from becoming dry and brtittle, while too much could cause clogged pores and eventually hair loss. 
D. Never wear your wig over wet or damp hair as this could cause bacteria or mildew to form. 
---VERIFY---
11. Why I receive a verification email?
If the shipping address is different from the billing address or Characteristics of this order are similar to fraudulent orders observed in the past, we may need to email or phone you to verify before processing the order.
---Payment---
12. Which payment do you accept?
We accept Paypal, Visa, Mastercard, Amex, Discover, JCB, Diners Club, Elo, Shop Pay, Apple pay.
---CONTACT---
13. The FAQ don't solve my question.
Don't hesitate to contact us via email Info@queenhairinc.com or message us via m.me/queenhairinc or the following form.